Join the Celebration
---
October 7–10, thousands of guests joined Finley Farms & The Ozark Mill for a fall-festival inspired grand opening celebration. The festivities kicked off with a concert by The Ozark Mountain Daredevils and Nate Fredrick. The next evening, families enjoyed a movie night featuring Hocus Pocus, s'mores, a critter corral and more. Throughout the rest of the weekend, attendees dined on farm-inspired food in the newly opened riverfront restaurant, shopped handmade goods in a marketplace featuring local and regional vendors, listened to live music, participated in hands-on workshops, toured the urban farm and more.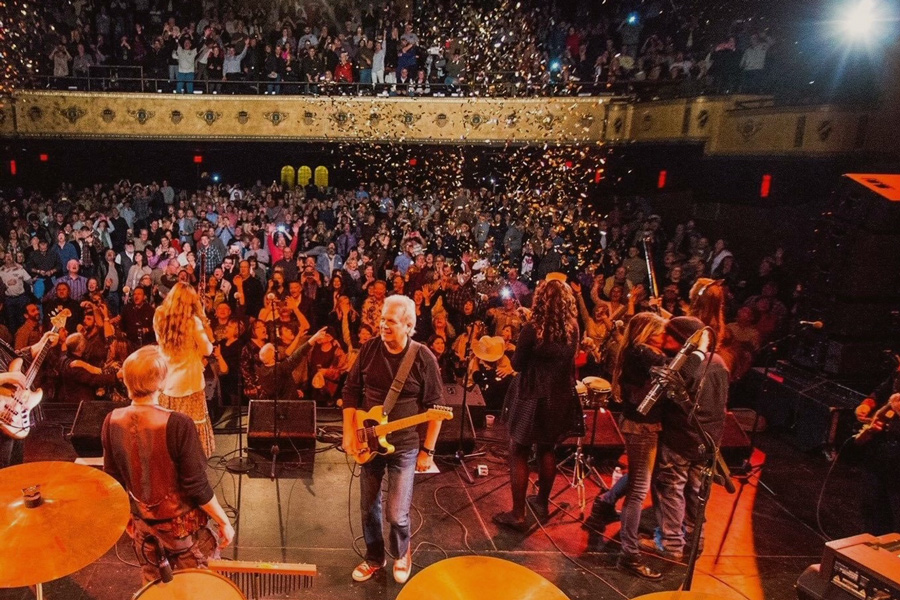 Ozark Mountain Daredevils Concert FAQ
---
Parking for the concert is available for $10 at Finley River Park. Shuttles will be running frequently from Finley River Park to the concert location at The Ozark Mill. Please be advised, McCracken Road will be closed starting at 4 PM to allow attendees to walk across the McCracken Road Bridge to the concert. No on-property parking is available at Finley Farms. Black Sheep Burgers & Shakes and London Calling Pasty Company food trucks will be on site in addition to a beer truck.
Our landscaping provides built-in amphitheater-stye arrangements for guests to sit and/or stand throughout the concert. Hay bales will be distributed throughout the space for additional seating. Flat seat cushions, stadium seats and blankets will be allowed. Folding chairs or any chair with legs will not be permitted. A viewing section for those in wheelchairs will be designated.
Prohibited items: No containers and/or coolers. No folding chairs or chairs with legs. No food and/or beverages except for medical or infant needs. No pets. No fireworks or noisemaking devices. No weapons (regardless of permit, included but not limited to firearms and knives). Any other items deemed unlawful or dangerous by Finley Farms personnel.
In the case of rain, the show will go on. Should there be lightning or extreme weather, the show will pause for a delay or be cancelled.
Friday, October 8
---
7 AM–3 PM | The Workshop open to the public
11 AM–9 PM | The Ozark Mill open to the public
5 PM | Gates open for movie night at The Mill, $5 general admission, kids 12 and under free | SOLD OUT
7 PM | Family movie night featuring Hocus Pocus, s'mores and a critter corral by Once Upon A Hilltop Farm | SOLD OUT
Food trucks by Davalon, Jamaican Patty Co.